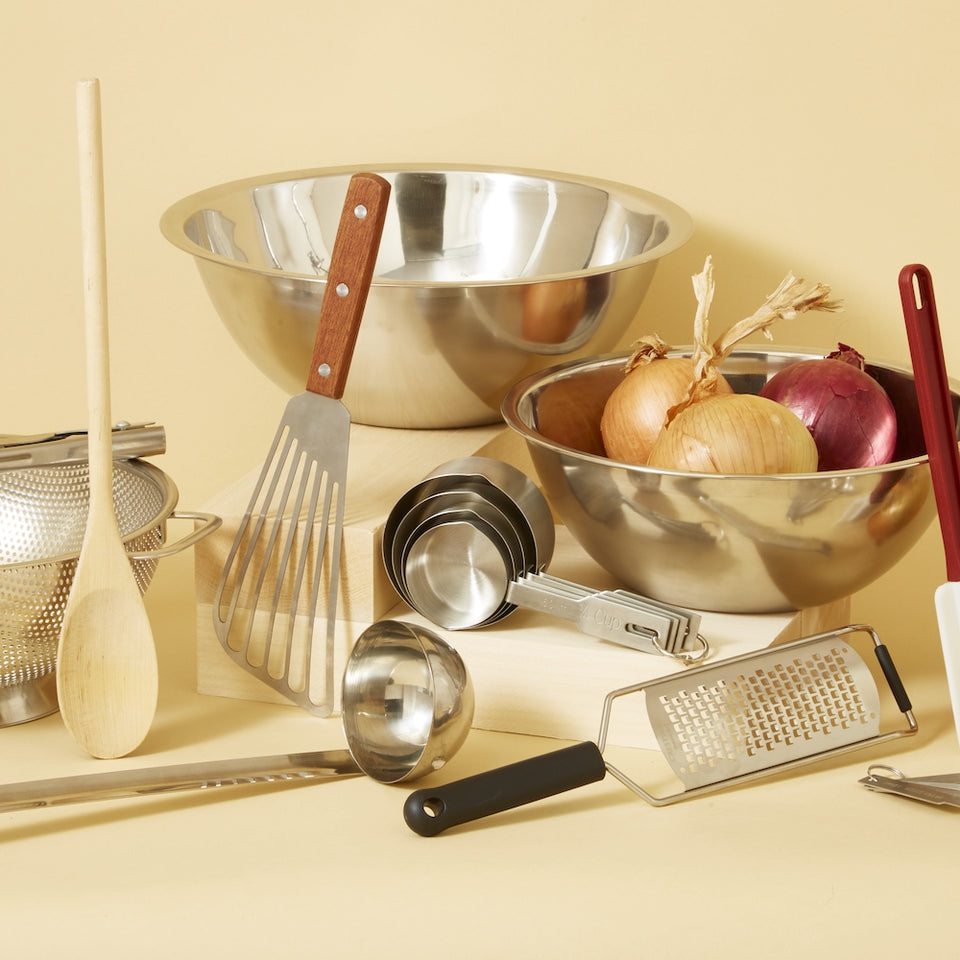 20% off
Potluck Utensil Set
Keep it simple. Twelve no-frills tools for prepping your ingredients and serving your meals. Professional-quality construction for years of reliable use. This tightly-curated set has you covered for countless kitchen tasks, but doesn't include anything that you won't use. It's just right.
All pieces are BPA-free. Dishwasher-safe except for the wooden spoon and fish spatula.
Here's what's inside:
Colander
Durable micro-perforated stainless steel. Don't lose a single strand of pasta.
Fish spatula
Flexible steel blade for getting under delicate foods. Riveted wooden handle.
grater
Super sharp with medium-sized holes. Perfect for grating carrots or Parmesan.
ladle
Stainless steel. 5-ounce capacity. Handle hook so it doesn't fall into your soup.
measuring Cups
Stainless steel. ¼ cup, ⅓ cup, ½ cup, and 1 cup sizes.
measuring Spoons
Stainless steel. 1 tsp, ¼ tsp, ½ tsp, and 1 tbsp sizes.
3-qt mixing bowl
Stainless steel. Mix enough pancake batter for four servings.
4-qt mixing bowl
Stainless steel. Plenty of room for tossing salad or mixing dough.
peeler
Stainless steel. U-shape is easy on the wrist and knuckles.
silicone spatula
Supple silicone blade scrapes up every last bit. Heat resistant to 500F. 10 inches long.
tongs
12 inches. Heavy-duty stainless steel. Sliding ring for easy storage.
Wooden Spoon
14 inches. Birch. Classic shape. Stays cool in any pot.
Looking for something else?